Chip Royce, Flywheel Advisors – November 10, 2022
Executive Summary:
Companies typically rely on customer satisfaction metrics such as Net Promoter Score or for individual departments to compile performance scores from customer feedback. As new generations of purchasers age into positions of responsibility with new habits and preferences, companies that compile feedback across the entire customer journey at the C-Suite will have a strategic advantage over their competition and better react to negative events versus their competition.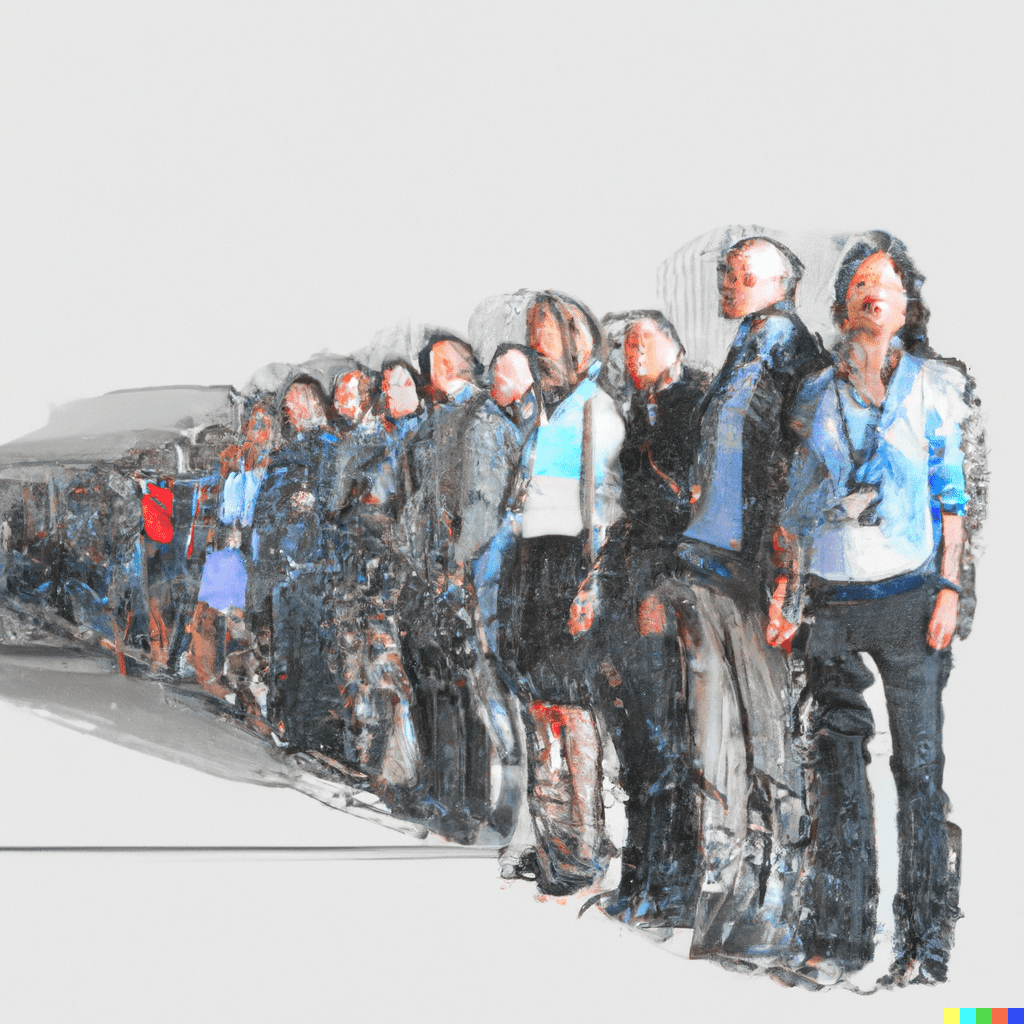 Original Art, created by DALL-E, Open-AI
"Customer Feedback Across the Customer Journey"

Purchasing Preferences of Rising Demographic Cohorts
Each generation brings unique behaviors and preferences as they age into roles of managerial responsibility.
Gen Y (aka "Millennials) are now in the age range of 28-40, making up much of middle management at companies, and rapidly entering executive leadership roles. GenZ is entering the workforce in full force and will influence company decisions and soon start entering the management ranks en masse.
Gen Y ('Millennials') and Gen Z have many similarities. Both groups, which grew up with the internet and cell phones, generally have less trust in authority and companies. They tend to avoid interaction with salespeople until late in the purchase process. Instead, they engage in self-directed research and look to friends, forums, or other sources of 'social proof' to identify products for consideration. Once they've narrowed it down to a few finalists, they will only engage with salespersons.
Also, suppose they have issues after purchase. In that case, they tend to leave feedback publicly on social media and forums or share it with colleagues or acquaintances instead of contacting the company directly.
Impacts on Company Operations
If you're not already, imagine that you're part of a management team at a B2B technology company. These behavioral preferences may impact your company in several ways:
Significant friction during the sales process:
This lack of trust and emphasis on self-guided research translates to customers delaying any direct interaction with the company until necessary. Conversion rates on web forms decrease as the customer does not want an influx of emails or follow-up calls from SDRs or Sales Team members. When they complete a web form or call the company, expect a focused call to address their specific questions and a likely abrupt end to the call. If a customer provides a phone number, don't be surprised if their voicemail hasn't been set up or is intentionally kept full to avoid having to return calls. Text messaging might be an alternative. However, that may be considered invasive and, just like cold calling, can damage your brand if utilized haphazardly.

Greater emphasis on content marketing and social proof:
Companies will need to respond to these trends by anticipating customer questions and needs and publishing various content to educate and persuade about the product. An emphasis on use cases and customer successes is key to creating 'social proof' of the value of your product or service.

Difficulty measuring negative experiences before and after the sale: In case of a refund for a major issue such as the wrong product shipped or received damage, these customers will undoubtedly reach out to your company to obtain a satisfactory resolution. However, do not expect these customers to directly share feedback about their experiences, especially poor or suboptimal, with your company. Instead, this feedback may be communicated to others on community forums, review sites, social media, or through direct communication with colleagues. The lack of indirect communication makes identifying and resolving these issues require significant resources to monitor and investigate.
Potential Impacts on Corporate Value
So far, you may think that what we have detailed are inconveniences and can be overcome by technology.
This may be the case for the best-performing companies. Still, the other 95%, who may be too large to adapt or do not recognize the significance, may be blindsided in ways that significantly affect their corporate value.
Friction in sales doesn't just mean more work to close deals. This may destabilize your existing sales process, impacting revenue attainment and customer retention. And without primary information from most of your customers, correcting these issues may be expensive and intensive, requiring valuable time and capital to resolve.
Shifting resources to content marketing & generating social proof for your products and brand is a smart play for B2B brands in 2023. However, content marketing is expensive, time, and resource-consuming, especially video elements. Without accurate customer feedback, your teams are forced to guess at what are likely drivers of purchasing intent and expect highly variable results from this investment.
Shortcomings of Today's Marketing & Feedback Techniques
We see today's standard customer experience measurement in four categories:
Ad Hoc Surveys: Most surveys are provided to customers inconsistently, making trend analysis difficult. Since infrequent, most companies attempt to extract too much information leading to long, bloated requests and meager response rates.
Situational: When companies plan for consistent surveys, they take place at select interactions and do not cover the entire customer journey. Examples include post-customer support interactions and Net Promoter Score (NPS).
Focus Groups: In theory, focus groups provide the ability to extract deep insights from current or prospective customers. In reality, the recruitment process is difficult, expensive to get a large sample size, and since compensated, affected by bias.
Experimentation: A/B and multivariate testing (providing customers with one of two or many options) fall into this category. While this is the most data-driven and scientific process for measuring customer preferences, available information or imagination restricts these methodologies. Essentially, it can only capture what you know or suspect. This method is unable to anticipate unknown customer information.
What does the next generation of customer insights collection look like?
Companies will be disadvantaged if they cannot adapt to this sales & customer care paradigm and persuade customers to share information.
Designed for today's digital customer
Integrated across the entire customer journey
Working with existing systems augments what systems cannot capture
Aggregated into a single data source and reporting platform
Provides quant and qual insights
Flywheel Advisor's Framework for Customer-Centric Feedback
Flywheel Advisors has created a next-generation customer feedback system called CeedBack that meets these requirements and provides companies with unparalleled insights into customer perceptions and preferences.
CeedBack includes:
"Micro-Surveys," delivered within your website, app, email, and other vital touchpoints that reduce/eliminate customer friction with the potential to deliver 80%+ response rates.
Workshop with Flywheel Advisors to map out all valuable touchpoints based on our customer journey analysis.
Integration with your existing systems, including current feedback capture, all customer-facing systems, and customer database(s).
Data warehouse for feedback data
Reporting tools for the management and individual operating teams provide near real-time status of your company's performance.
"Obvious" yet requiring "Expertise"
Customers we've spoken with describe CeedBack as "clearly obvious" in terms of its methodology and value provided.
However, in those same discussions, management teams and CTOs commented that the framework is not a project to attempt independently. This framework requires expertise in the following:
Customer surveys and feedback aggregation
Program design and working cross-functionally across a client organization
CeedBack's unique system design and capabilities
Integration capabilities across various data sources
Business Intelligence systems and reporting design
Coaching management teams to integrate the reporting into their operational cadences for maximum value
Your Future with Consistent Customer Feedback
Imagine what it would be like after 2-3 months of our system in place across your customer journey:
Your management team identifies potential issues or opportunities before they become significant, thanks to the real-time dashboard.
Marketing programs are easier to execute and perform better when customers tell you what messages are most valuable.
Sales performance increases as customers share feedback on individuals' performance and suggestions to tailor the sales process to their needs.
Experience fewer customer support interactions or shift activities to helping customers extract more value from your product as the items that generate issues decline.
Your brand equity increases, and you see more repeat purchases as customers see your company taking action to provide a stellar experience.
To learn more about CeedBack and see a demo of its capabilities