Chip Royce, Flywheel Advisors – Updated, May 4, 2023
There's nothing like a face-to-face meeting for networking and making a more personal connection.
The Raleigh Durham Research Triangle has many fantastic coffee shops that are convenient, quiet, and make a great cup of 'joe'.
And if we left any out, please tell us about your favorite coffee networking location.
Here's our list of the best coffee shops for business meetings in the Raleigh Durham Research Triangle of North Carolina, organized from West to East.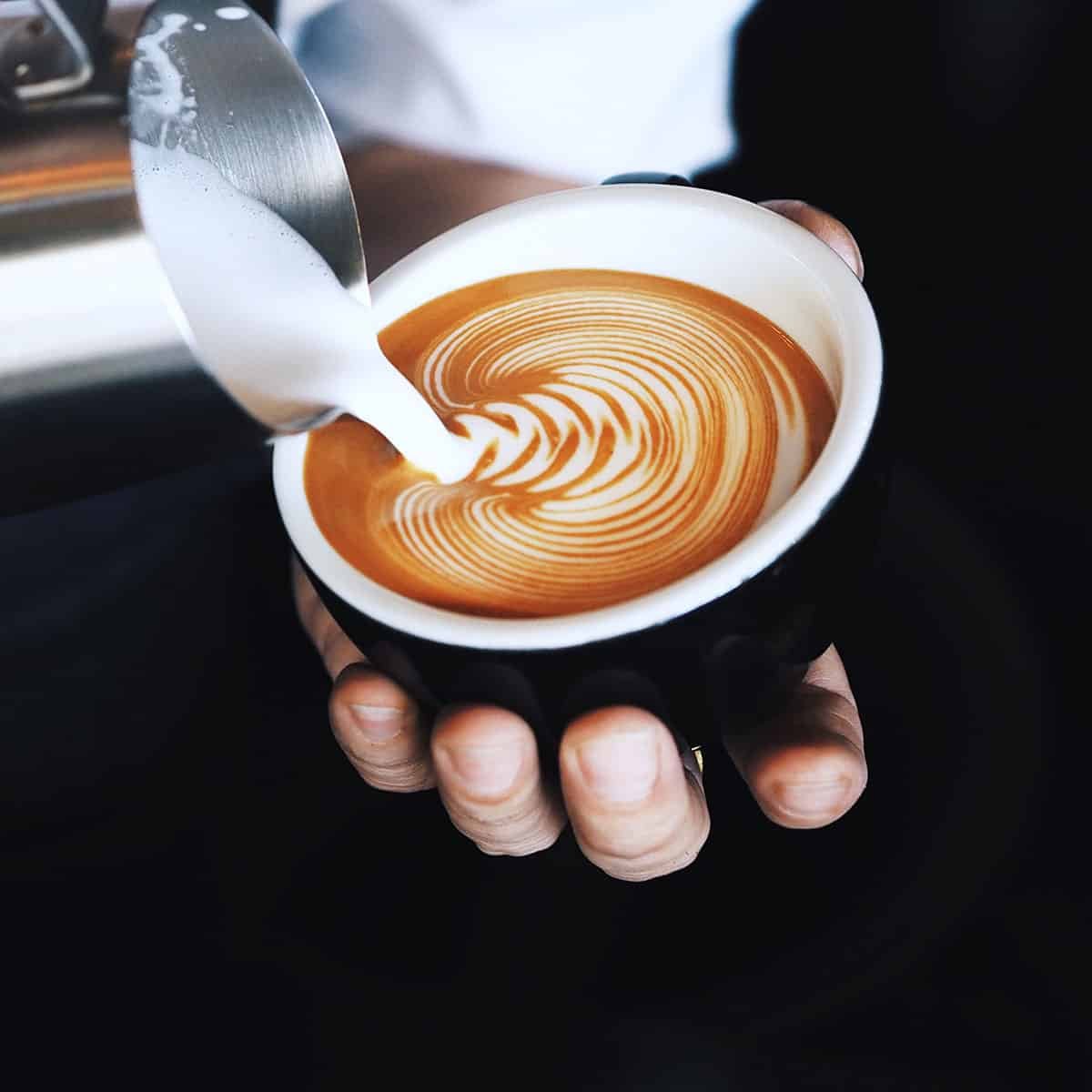 Our favorite – Latte with Whole Milk and
2 packets of Stevia (or Splenda)

CHAPEL-HILL / CARRBORO
Caribou Coffee
1408 E Franklin St, Chapel Hill, NC 27514 (Google Maps)
Mediocre coffee and barely pleasant surroundings. However, this is an excellent location for Chapel Hill meetings as this Caribou Coffee location does not require driving into downtown Chapel Hill, and having to build extra time into your day to search, fight and pay for parking. You'll find outdoor seating and different quiet spaces.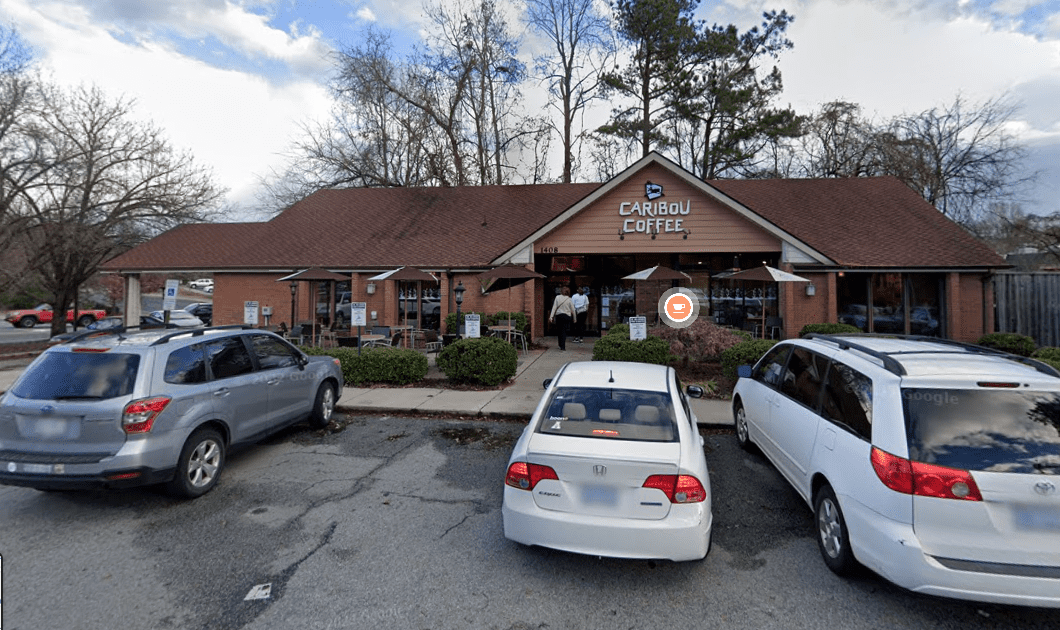 ---
DURHAM
Mad Hatter Cafe + Bakeshop
Imperial Center, 1119 Slater Rd, Durham, NC 27703 (Google Maps)
Adjacent to the Duke East Campus and NOT convenient to downtown Durham, the Mad Hatter is a great coffee and eating spot, serving breakfast and many delicious baked goods. With ample parking, Mad Hatter Cafe is more convenient if driving to Durham to meet since downtown requires one to find and pay for parking.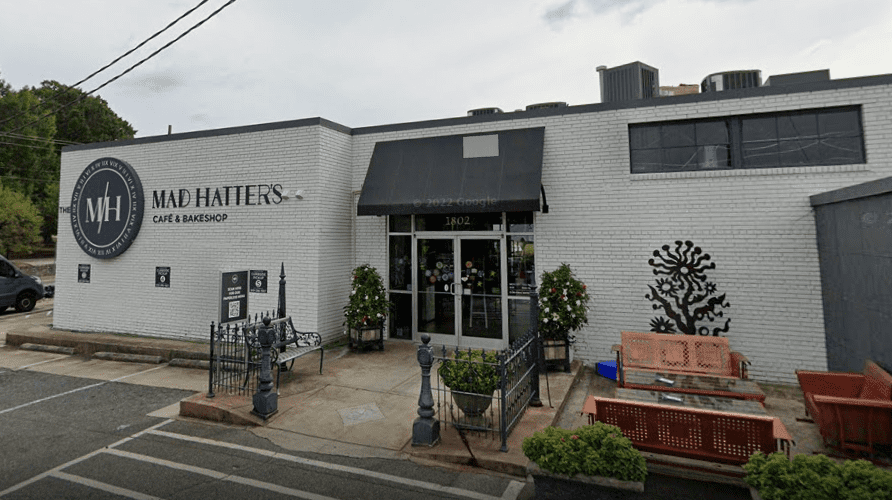 Beyu Cafe
341 W Main St, Durham, NC 27701 (Google Maps)
A long-time staple for downtown Durham meetings, Beyu is comfortable and excellent for quiet, private business meetings. Centrally located, the only drawback is the increasing cost and difficulty finding parking in downtown Durham.
The Oak House Durham
126 W Main St, Durham, NC 27701 (Google Maps)
Liven up your meetings at the Oak House! Centrally located in Downtown Durham, The Oak House is both a Coffee Joint and a Wine Bar. Many seats, great drinks and coffee, and nice decor. If it has a drawback, your conversations won't be very private.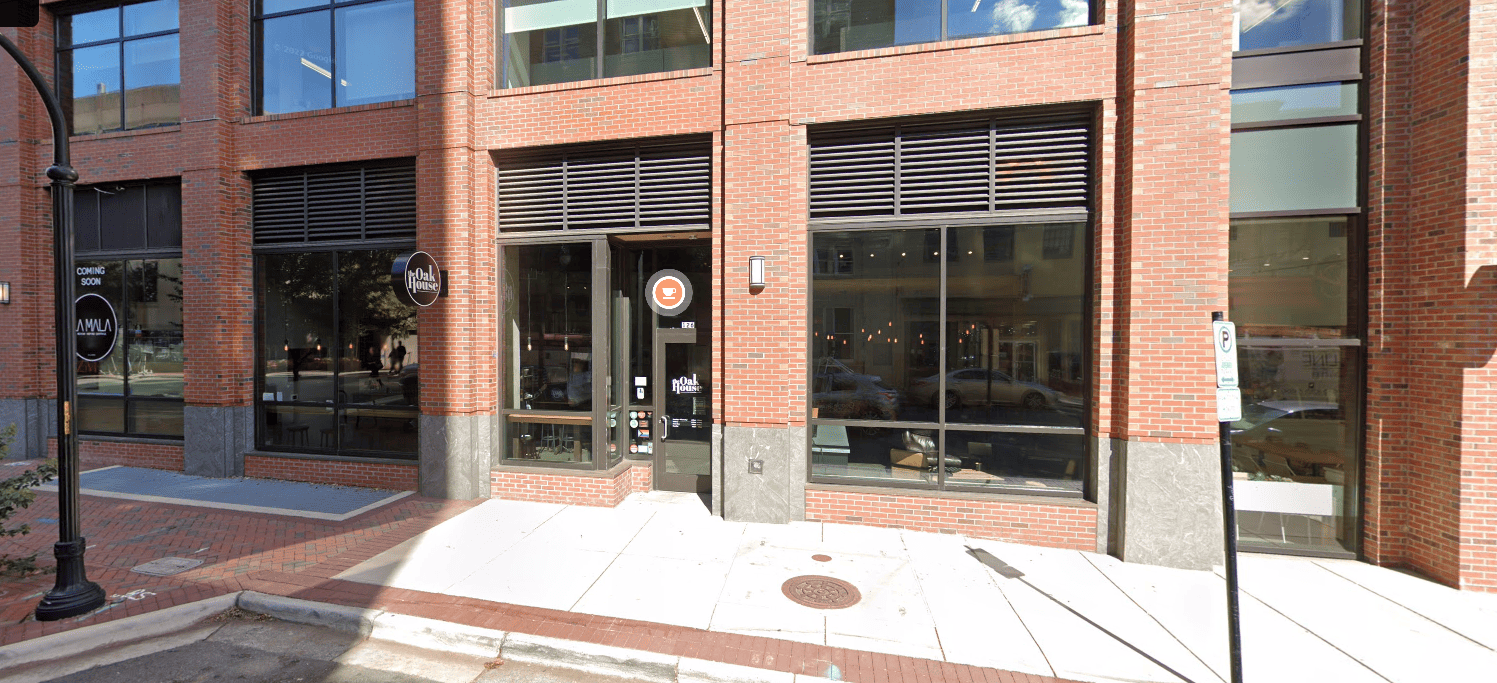 ---
RTP
Starbucks – Page Road
Imperial Center, 1119 Slater Rd, Durham, NC 27703 (Google Maps)
An oldie, but goodie. Page Road Starbucks has a history of being THE coffee meeting location since I arrived in the Triangle in 2008. This location is also popular when someone is visiting from out of town, with convenient access to I-40 and reasonable proximity to the airport. Fewer folks will be seen here with the arrival of many boutique coffee stores and more virtual get-togethers. However, this recently renovated store (as of 3/2023) has ample indoor and outdoor seating, and parking shouldn't be a problem in its busy lot.
Fount Kitchen + Coffee
10954 Chapel Hill Rd Ste 109, Morrisville, NC 27560 (Google Maps)
Fount Kitchen + Coffee is becoming a go-to networking and meeting spot in the Triangle. Located right off I-540, where it intersects Chapel Hill Road, this spot is convenient to Perimeter Park and those coming in from the airport, south from the Apex, Holly Springs area, and North Raleigh and beyond. Fount does an exceptional job with its coffee and also has a variety of Gluten-free baked goods. Get there early, as tables go fast, especially when the weather is too hot or cold to sit outside.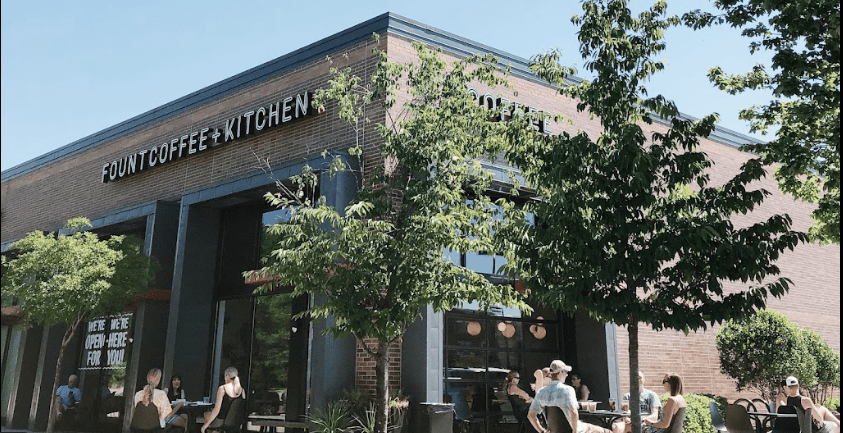 ---
CARY / APEX
Crema Coffee Roaster & Bakery
1983 High House Rd, Cary, NC 27519 (Google Maps)
Tucked away at the side of a large shopping center, Crema Coffee is an upscale shop providing various coffees and baked treats. This shop is not near any highways but is convenient for Cary, Apex, and Morrisville residents to meet either inside or on its covered patio.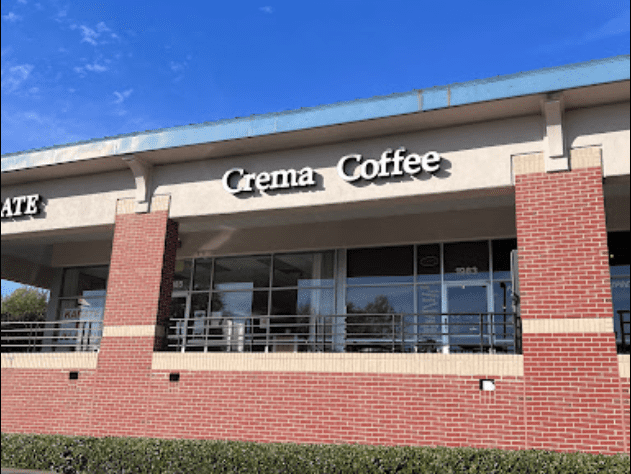 LaFarm Bakery (Preston Corners)
I4248 NW Cary Pkwy, Cary, NC 27513 (Google Maps)
Did you know that the RDU triangle is home to a Top 10 break bakery in the US? LaFarm originated in this location and now has multiple stores and also bakes bread for restaurants and grocery stores. Centrally located in Preston Corners, LaFarm has ample seating but can be busy and a little loud.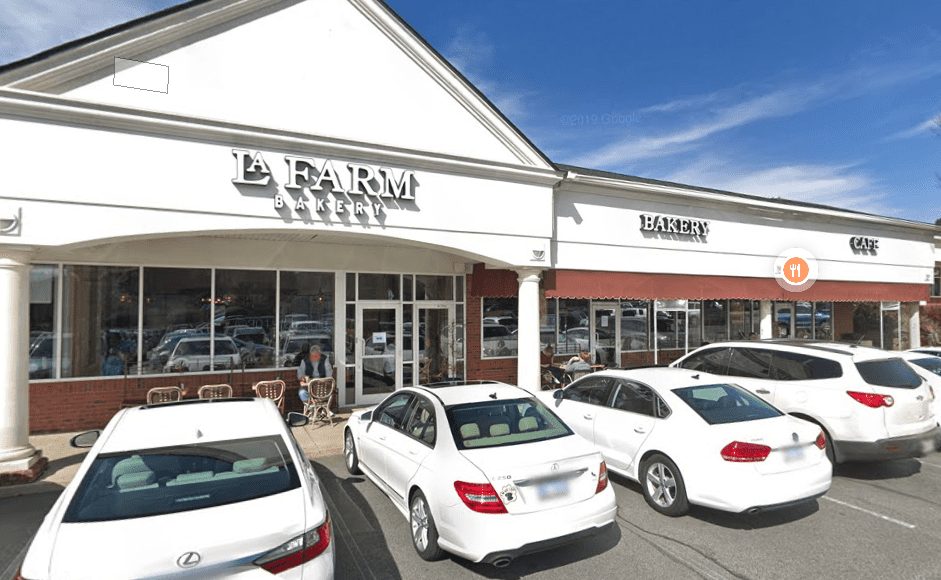 Common Grounds Coffee House & Desserts (Downtown Apex)
219 N Salem St #101, Apex, NC 27502 (Google Maps)
Common Grounds makes excellent coffee at more affordable prices than others in the area. The downtown Apex location is a hub for locals as they go about their day, giving a strong community feel. Plenty of seating indoors and outdoors, and lots of parking nearby despite the downtown address. Lastly, Common Grounds is not far from NC 64, making it a convenient place to meet for contacts from the West and the Cary/Apex area.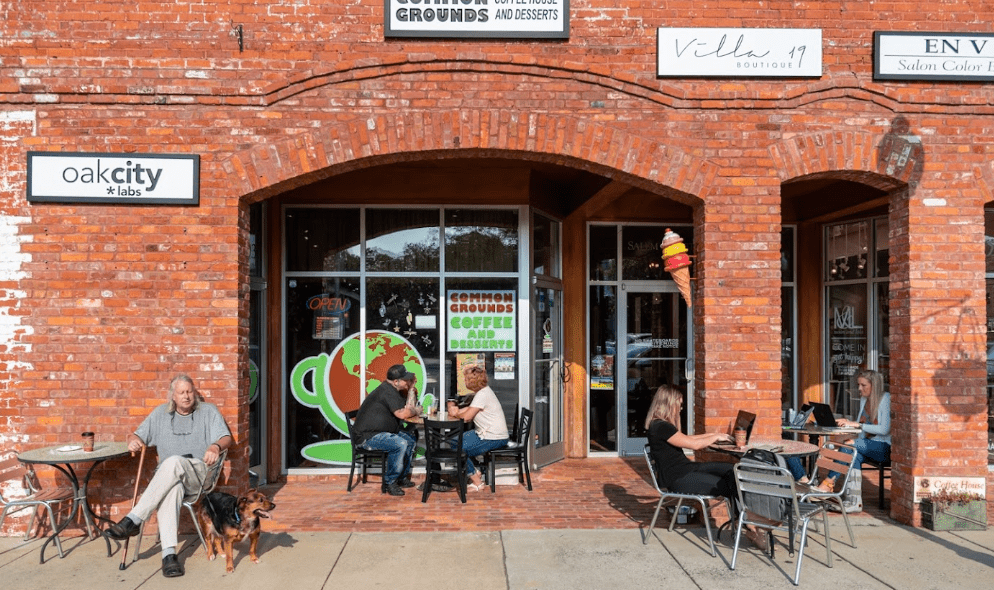 ---
RALEIGH
Panera Bread (North Hills)
4421 Six Forks Rd Suite 119, Raleigh, NC 27609 (Google Maps)
The northwest side of Raleigh off of I-440, is growing in size and scope. Due to its unique large size and comfort, the Panera Bread in North Hills is a well-regarded meeting place for business and networking meetings.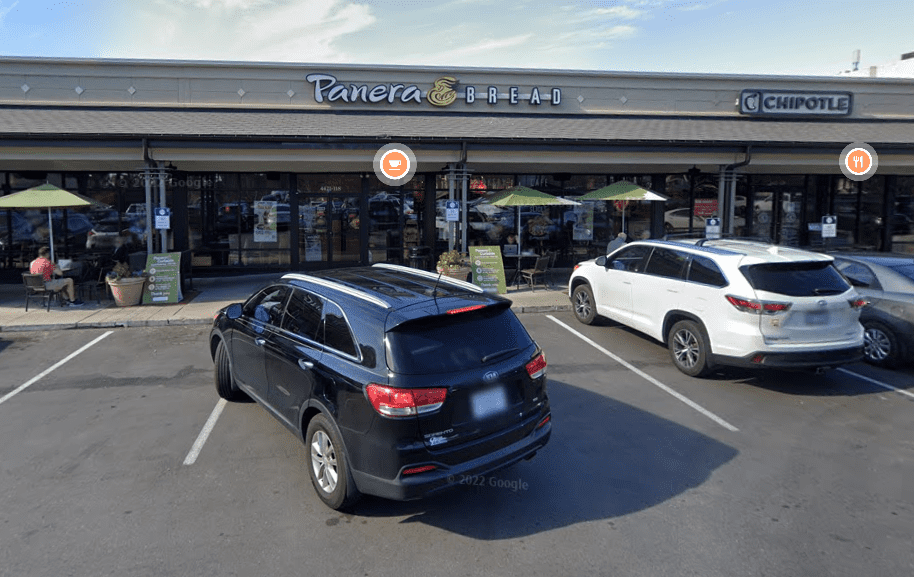 The Third Place Coffee Shop (Five Points)
1811 Glenwood Ave, Raleigh, NC 27608 (Google Maps)
A comfortable, high-quality neighborhood coffee spot located in the heart of Five Points, making it convenient for inside-the-beltline residents. Morning meetings are more manageable as you'll likely find parking easily. However, later in the day, plan to add some time to ensure you find a spot or for a longer walk if parking blocks away.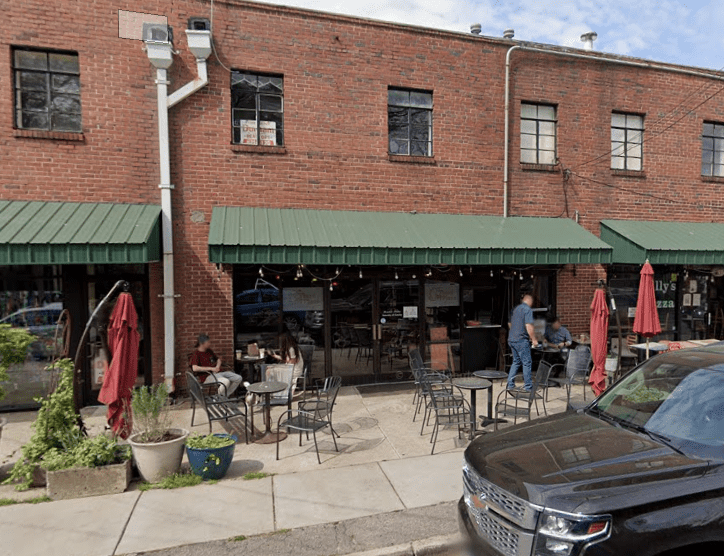 Idle Hour Coffee Roasters
1818 Oberlin Rd #103, Raleigh, NC 27608 (Google Maps)
A little expensive, but fantastic coffee, and comfortable surroundings. You'll often see many power players in the Raleigh finance and tech scene here. Located eight blocks NorthWest of the Five Points area, Idle Hour is a bit easier to get to than other coffee shops if coming from I-440 or Glenwood West. Extra points for a dedicated parking lot in the back.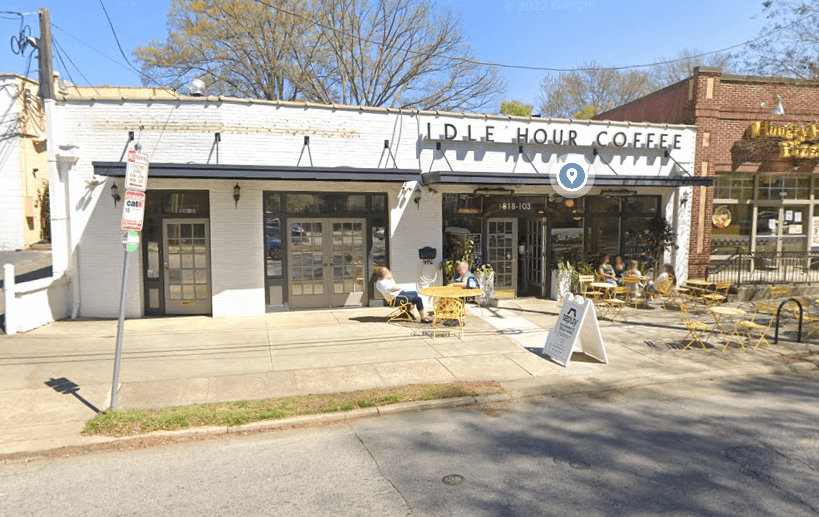 Morning Times
10 E Hargett St, Raleigh, NC 27601 (Google Maps)
A long-time favorite for downtown Raleigh, Morning Times is intimate and cozy, boasting great coffee and breakfast foods. Its Hargett Street location is convenient to multiple parking lots making it an excellent destination for connecting someone who's downtown with one driving in from another town.